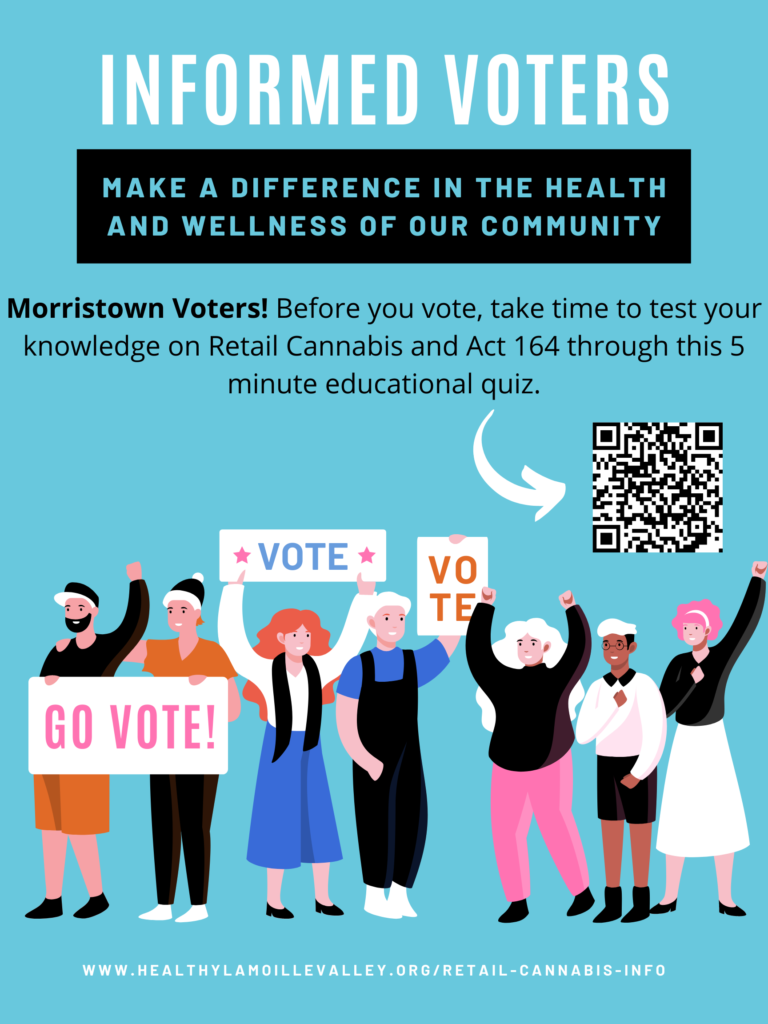 Informed voters make a difference in the health and wellness of our community!
Morristown voters, before you vote on December 7th, take time to test your knowledge on Retail Cannabis and Act 164 through this five minute interactive quiz.
Visit www.healthylamoillevalley.org/retail-cannabis-info to find resources for your own information and conversations with others.

The Great American Smoke Out is November 18, 2021, a time to quit nicotine whether quitting vaping, cigarettes or chew for a day or considering making a plan to quit for good. Community members, businesses, organizations, schools, towns can get involved!
Consider setting up an info table at your business, agency, school, or community event with quit resources.
Hosting a trivia night open to students is a fun way to find out what information people may know about tobacco use and vaping. This is also an opportunity to educate kids on things they might be misinformed about.
Host an art or video contest to encourage students to get creative. This is a great opportunity for students to educate each other about the negative impacts of tobacco use and reasons why their peers should quit.
Virtual platforms, like Zoom, can be used to create quick trainings to educate your audience about the effects of nicotine use. Get creative!
Visit http://www.cancer.org/healthy/stay-away-from-tobacco/great-american-smokeout.html for more information about The Great American Smoke Out.
Check out local quit help resources at http://www.healthylamoillevalley.org/quit-help. See what's available in your area and online for youth and adults with in-person support, quit coaches, text-based quit programs and local support groups.
Our Lamoille Valley Tobacco Prevention Taskforce met recently to identify common goals and collaborative initiatives, reconnect, sharing local updates and review this year's Healthy Lamoille Valley Tobacco Prevention and Cessation Workplan. We were also joined by special guests, state partners Dana Bourne, Tobacco Treatment Specialist and Issah Younossi, Chronic Disease Program Specialist both from the Vermont Department of Health. Join us for our next meeting on December 7th, 3-4pm. Register in advance for at https://us06web.zoom.us/meeting/register/tZYkcOyprTkpGd2Vqol71rJU3YE_YRJWvKXq.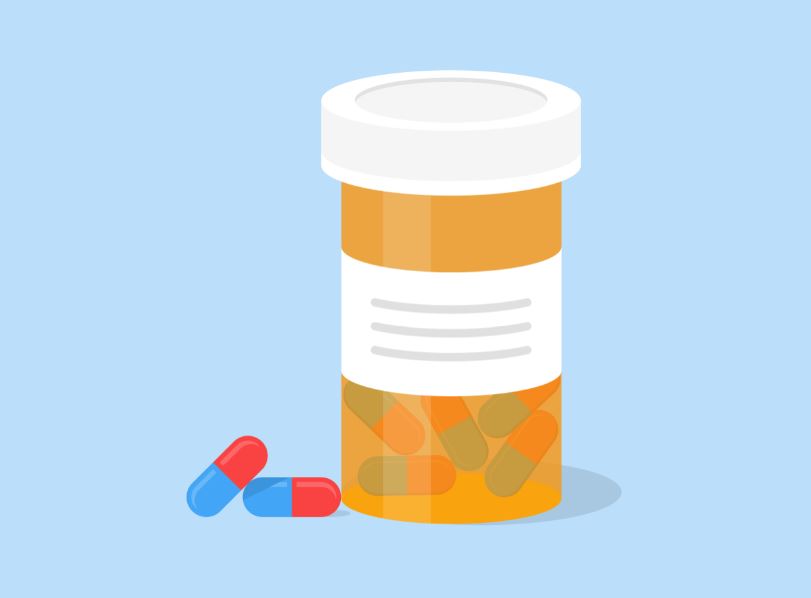 National Prescription Drug Take Back Day is Saturday, October 23rd , from 10:00am – 2:00pm. This is a great opportunity to turn in your unwanted, unused, or expired medications. This service is free and anonymous, no questions asked. Lamoille Valley locations are: Copley Hospital (in the hall by the Laboratory Check-in), Hardwick Police Department, Morristown Police Department, Stowe Police Department, Kinney Drugs in Morrisville and Cambridge, and the Lamoille County Sheriff's Department in Hyde Park. These sites are accepting pills only and cannot accept liquids or sharps.
If you're not able to make it to one of these sites on October 23rd, not to worry, Copley Hospital, Hardwick Police Department, Morristown Police Department, Stowe Police Department, Cambridge Kinney Drugs, and the Lamoille County Sheriff's Department all have year-round self-service drop-boxes, available during normal business hours.
Healthy Lamoille Valley has a supply of prescription drug mail-back envelopes from the Vermont Department of Health. These envelopes are free, prepaid and easy to use. Simply seal your unused prescription drugs inside and drop off at any post office or other USPS pick-up location. Contact Jessica Bickford, jessica@healthylamoillevalley.org if you would like to receive mail-back envelopes.
Safely storing or disposing of prescription drugs is important for the well-being of our community in order to prevent misuse and help protect the environment. Misused prescription drugs are often obtained from the houses of family and friends, so keeping prescription drugs out of reach of children and youth is key.
Looking for more information on drug safety? Click here.