3-4-50 Partnerships
About 3-4-50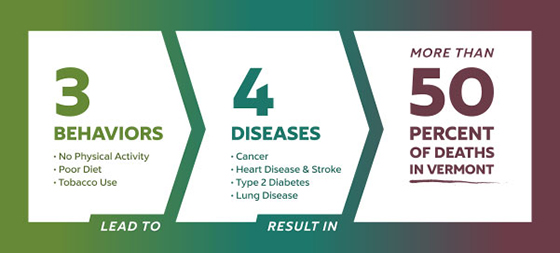 3-4-50 is a program of the Vermont Department of Health.  "3-4-50 helps us understand the overwhelming impact of chronic disease in Vermont and inspires us to take action to change it. 3-4-50 is about making a difference at a level that can influence the health of many. Businesses, schools, cities and towns, and health care providers all play an important role in shaping the health of Vermonters." Learn more about 3-4-50 and you at www.healthvermont.gov/3-4-50.  Become a 3-4-50 partner!  Check out what's right for you, visit the VT Dept of Health's worksites, schools, cities and towns and faith-based communities pages to get started!
What are 3-4-50 Partners?
3-4-50 Partners are businesses, organizations, towns, schools, classrooms, faith-based institutions, and more who have signed to continue or build wellness measures that promote health and reduce the risk of chronic disease in their communities.  Learn more about partners and the different levels available at www.healthvermont.gov/3-4-50/3-4-50-partners. Read North Central Vermont Recovery Center's blog post on being a 3-4-50 partner.
Worksite Wellness Resources
2021 Mini-Grant Awards
We thank all applicants on behalf of our community for creatively applying for a mini-grant this year. The more community members and partners who join the 3-4-50 initiative, the larger the impact on our community's health.
Congratulations to this year's recipients!
Mini-Grant Project Highlights!
Waterville Town Library and Waterville Elementary School Library: Story Walk
"Waterville Town Library and Waterville School Library received an HLV 3-4-50 Mini Grant to build story walks at the Town Library and at the School Library. Students from the Waterville Elementary School helped pick out the stories, map out where the pages of the story would go at the two locations, helped glue the school's story walk pages together in preparation for the school and town librarian to laminate the pages; and helped install the story walks at the school and at the town library. It has been a successful collaboration! We have already received great feedback from people who have brought their children to visit the story walks. We look forward to posting different stories to our two story walks in the future, and encouraging our citizens to both get outdoors, engage in fun physical activities, and continue reading year round."
"Since the addition of the mountain bike trails by Brewster River Mtn Bike Club onto the trail system at Cricket Hill owned by LUHS we determined we had a need for additional room for signage at the main parking area. We also needed to update our map and signage for the Nordic Ski Trails. So we developed a 2 phase project. The first phase, which was funded in part by this grant, was to create more room for the map and signage which would be part of the 2nd phase. We have now completed this first phase and secured all the funding we need for the 2nd phase which we intend to complete before the end of this year. We are so excited to watch our Mini-grant award launch as summer begins in the Green Mountain State!"

 Vermont
State Park Passes Loan Program
"All summer long we anticipate folks using the VT State Parks Pass loan program to get out and get moving! We will know this is a success when the Summer Season gets underway with the State Parks now officially opened up across the state!"
"Hardwick Area Health Center has been able to continue our mission of promoting health and wellness through the generous grant from Healthy Lamoille Valley. We always talk about safety at well child checks, and specifically about preventing head injuries while biking or riding. As part of these visits, we have been able to provide new bike helmets to our patients who don't have one!"
"The HLV Mini-Grant helped us purchase two bikes for the women who reside in the Jenna's Promise Rae of Hope sober home. These bikes will provide transportation to employment opportunities for the women and increase physical activity for members of the Johnson community."
Healthy Lamoille Valley congratulates Johnson Recreation for becoming a 3-4-50 partner in 2021!
"Johnson Recreation has been working on creating a toddler play space at Legion Field.  This area is adjacent to our elementary school and within walking distance to our downtown shopping area.  With the grant we received we have doubled our play area for this age group.  HLV has been a wonderful support to Johnson Recreation as we work towards creating healthy community opportunities."
River Arts
: Encouraging a Walking and Biking Lifestyle, Bike Rack and Little Free Library
"River Arts is so excited to now have a bike rack out front! This will encourage employees to bike-commute, students and campers to bike instead of drive, and visitors and tourists explore up from the Rail Trail. This will result in a healthier, more active downtown."
Town of Wolcott
– Help Yourself Veggie Pantry & Community Garden
"Wolcott created a Help Yourself Veggie Pantry & Community Garden this spring. Our goal is to increase the amount of fresh vegetables available to families in the community, to help those facing food insecurity, and to encourage healthy eating and improve overall nutrition. The garden is located in the fenced-in area behind the Community Library. The Library is housed in the former Depot building now located in the Wolcott School Street Historic District.  The Town provided funds for the purchase of cedar raised beds. The HLV mini-grant funds were used to purchase the compost and topsoil to fill the beds, as well as the cabinet that will serve as our "Help Yourself Veggie Pantry." The newly formed volunteer organization, Women of Wolcott (WOW), provided the labor for set-up and planting, and will maintain the garden and pantry.   The project started with a very successful Seed Swap held outside the Library on March 20, 2021. Wolcott residents were encouraged to take whatever seeds they would like from our donated seed packets. A second Seed/Start Swap was held May 1. All seeds and plants were available at no charge, but donations were accepted. All nine raised beds were filled with donated vegetable plants. Many essential garden tools were donated by businesses in Morrisville and Hardwick. Even the kiddos can join in using colorful garden tools just their size.   The Library maintains a special display in connection with the garden. Books on planting and other gardening tips will make way for those on healthy eating and food preparation and preservation as harvest begins. The Library's Facebook page will provide a forum on which patrons can share their own healthy eating recipes. This year's garden has a large variety of tomato and squash plants. Videos of how best to prepare tasty dishes using these vegetables will be posted on YouTube: Wolcott VT Eats, to be available to all in the community. An outdoor class on outdoor herb gardening, as well as other topics, are planned for the summer."
Our Lamoille Valley 3-4-50 Partners
Gold Level
Copley Hospital
Curves Morrisville
Green Mountain Support Services
Johnson Public Library
Lamoille County Mental Health
Lanpher Memorial Library
Morrisville Local Health District Office
MSI Manufacturing Solutions Inc
North Central Vermont Recovery Center
Riverbend Market
Round Hill Kids
Smugglers Notch Resort
Vermont Electric Cooperative
Silver Level
Bronze Level
Commitment Letters
Clarina Howard Nichols Center
Lamoille Health Partners/Community Health Services of Lamoille Valley
Copley Hospital
Elmore Select Board/Town of Elmore
Hyde Park Select Board/Town of Hyde Park
Johnson Works
Lamoille County Planning Commission
Lamoille Home Health and Hospice
Lamoille North Supervisory Union
River Arts
Lamoille Neighbors