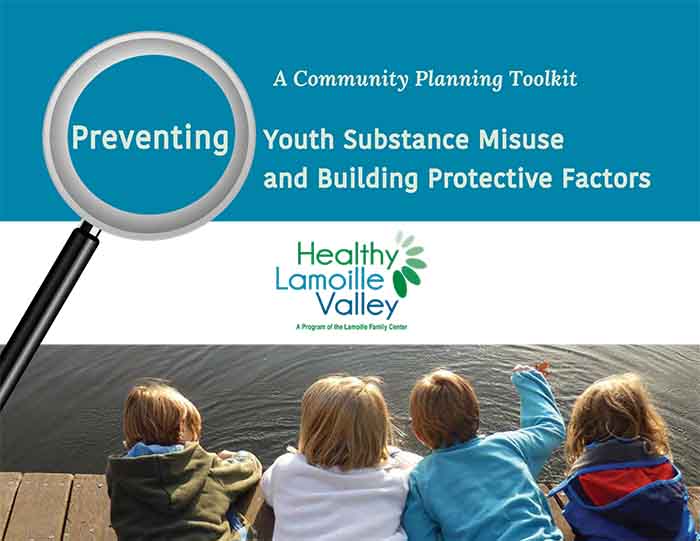 Come learn about our Healthy Lamoille Valley Community Planning Toolkit and how to use it. Contact HLV Outreach and Policy Coordinator Alison Link at alison@healthylamoillevalley.org if you are interested in meeting up for a cup of tea, a walk or a zoom chat or phone call.
The Community Planning Toolkit: Preventing Youth Substance Misuse and Building Protective Factors is a community planning guide focusing on reducing youth misuse of alcohol, tobacco, cannabis and prescription drugs, while supporting efforts to help youth make healthy substance-free choices. There are many factors, including on the family and individual level, that impact youth substance misuse. The purpose of this Toolkit, however, is to focus on the community, policy and systems levels. We encourage those with all identities, affiliations and experiences to join us in this effort.
You can use the Toolkit to:
Focus your attention by taking steps to see through a youth substance misuse prevention lens.
Understand community norms, messaging, and both risk and protective factors to foster resiliency in youth and create a healthy environment that prevents substance misuse.
Identify a vision for what it means to live in a healthy community that includes maximizing the potential that youth will make healthy decisions and healthy decisions become the norm.
Become a change agent for bringing about lasting change to reduce substance misuse in your community.
Be strategic in your substance prevention efforts.
Ensure that all populations are welcome, invited and considered in the planning process.
Promote awareness towards creation of, or change of, health and substance related policies.
Each of us can make a difference in our community toward reducing youth substance misuse, whether through actions in our personal lives or by changing community norms and policies. It is our responsibility to the generations to come. As a first step, we can start to heighten our awareness and simply notice.