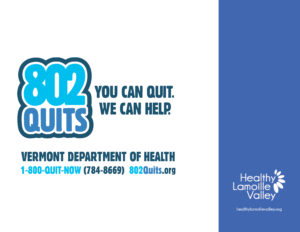 Did you know it has been more than 5 years since the Lamoille Valley has been the recipient of a tobacco prevention grant through the Vermont Department of Health? Healthy Lamoille Valley is our prevention coalition charged with this work.
We are reestablishing a Tobacco Task Force for Healthy Lamoille Valley! Are you or your agency interested in participation (on any level)?
We invite you to share the work you are already doing on tobacco prevention and policy. We are here to support you. Is there anything that could be helpful for us to know that relates to tobacco prevention in your agency, town or the broader Lamoille Valley? Please share with us your knowledge, passion and experiences.
As HLV expands its work, Alison Link has been hired as the Policy and Community Outreach Coordinator. Alison is looking forward to hearing from you at alison@healthylamoillevalley.org .
---
Quitting smoking? "Smoking is the #1 preventable cause of death in the United States."  Vermont Quit Partners Free Workshop begins October 4th from 5-6pm at Cambridge Family Practice. Workshops are added regularly.
Contact Erica at (802)253-9171