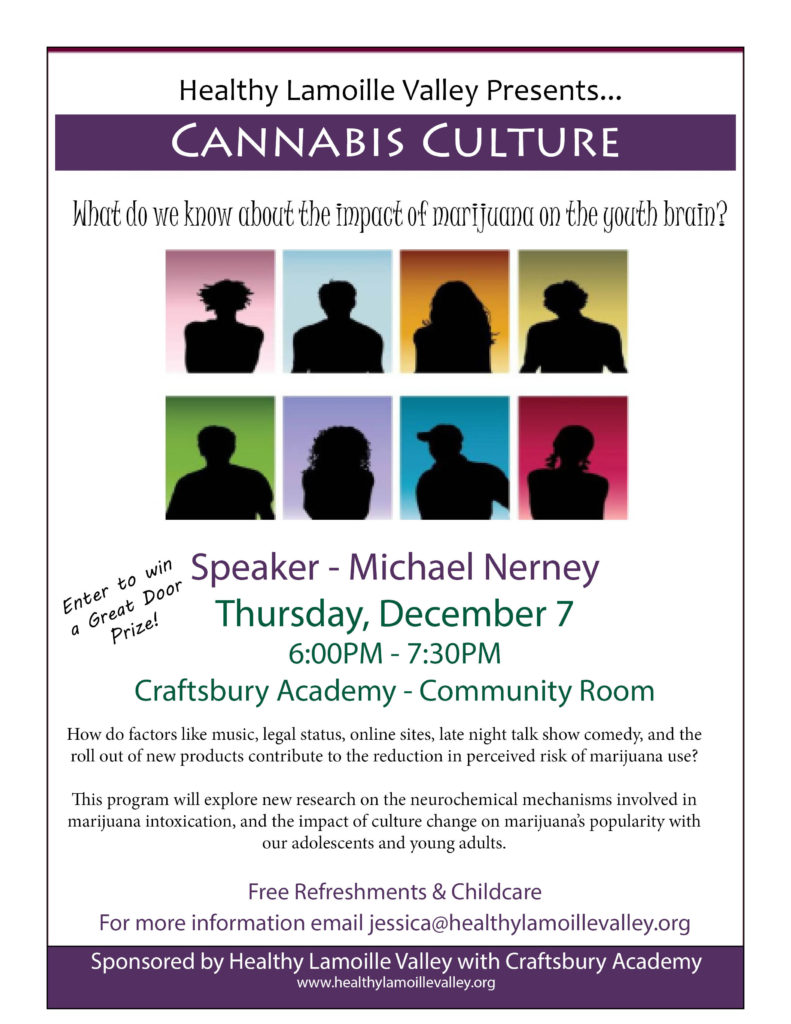 Michael Nerney is scheduled to present "Cannabis Culture" at Craftsbury Academy in the Community Room on Thursday, December 7th from 6:00-7:30. Nerney, a leader in youth brain development will explore how factors like music, legal status, online sites, late night talk show comedy, and the roll out of new products contribute to the reduction in perceived risk of marijuana use.  This program will explore new research on marijuana intoxication, and the impact of culture change on marijuana's popularity with our adolescents and young adults who are at critical stages of brain development. Free childcare and refreshments are provided. All welcome, no pre-registration required.
When community member, Douglas Safford, heard that Michael Nerney was coming he had these words to share: "I have had the honor and privilege of knowing Mike Nerney on a personal and professional level since the early 1980's.
I lived in the hamlet of Long Lake, NY in the heart of the Adirondacks with Mike and his family.
I also have had the opportunity to listen to Mike speak on a few occasions to students and parents concerning the problems with substance abuse, brain development, and ways to communicate with teenagers. I attended a conference in Burlington a few years ago with an audience of parents, educators, mental health professionals, and both state and federal law enforcement officials. His easy going but informative style of presentation keeps you interested and gives you insight as to what is going on in the minds of teens.
I would encourage any parent who has adolescent children to attend this presentation. The information is up to date and current and his information provides you with ways to talk to teens and to help you understand what is going on within their brains. You will also have the opportunity to ask questions and get answers that will help you communicate with your children."
The timing of this event is perfect as Craftsbury Academy, with support from Healthy Lamoille Valley, started a Getting to Y group this Fall.  Getting to Y is a youth engagement group that allows students to look at their school's Youth Risk Behavior Survey data, identifying areas of strength and concern.  Often students who work with their YRBS data identify peer substance abuse as a concern to address. Students are invited to attend Nerney's presentation to expand their knowledge of how substances impact them and their peers and what can be done to prevent it.
Michael Nerney's has an extensive understanding of adolescent issues as they relate to substance abuse.  He is a certified instructor in violence prevention and management with the Crisis Prevention Institute (CPI).  Michael Nerney is an internationally known lecturer, and has served as consultant to a number of federal and state agencies, including the federal Office of Substance Abuse Prevention and the Bureau of Justice Assistance; Mr. Nerney has provided consultation on drug courts and other areas of technical assistance to correctional systems in forty-nine states across the country.  He is the father of four children. Mr. Nerney recently served as the consultant in the development of the learning centers for the Eckert Drug Quiz Show in New York State.  He has been a consultant for two of the major television networks and has appeared on the ABC program "20/20".
Looking for more resources on talking to teens about marijuana and other drugs?  Visit parentupvt.org.