HLV Breakfast and Action Planning: Tobacco/Nicotine/Vape Prevention
September 12, 9:00-11:00 AM at GMTCC
Join us for a morning session of action planning to prevent and reduce youth substance use and increase the overall health and well-being of our youth. Youth, parents, educators, and community partners are welcome! This is a collaboration with HLV's Tobacco and Vape Prevention and Cessation Taskforce.
RSVP by September 10th. Youth who RSVP and attend the whole event will receive a $25 gift card!
The session begins with breakfast including a yogurt buffet, granola, berries and other toppings with non-dairy and gluten-free options, followed by a raffle for attendees who are VT Department of Health 3-4-50 partners or who sign up to become a partner! Prizes will be two $100 gift certificates towards your choice of local business to promote physical activity, healthy nutrition or reduce tobacco use and exposure at your worksite. Learn more about becoming a 3-4-50 partner. 3-4-50 partners and others will have an opportunity to share about their worksite wellness program ideas.
After breakfast we'll look into the local conditions and root causes of youth and young adult tobacco/nicotine/vape use, using our newly released updated Community Planning Toolkit. Then we'll identify strategies to prevent or delay first use and support treatment and cessation.
Local substance use rates are often higher than state averages.Vermont youth substance use is among the highest in the country. Many risk factors that account for these high usage rates.  We can work together to reduce the risks and improve the well-being of youth in the region!
This is the second in a three part series that focuses on strategic planning for a specific substance. HLV held a successful strategic planning event on June 15th, bringing together coalition members to celebrate partners and work on a strategic planning process for the prevention of underage cannabis use in the region.
We look forward to seeing you there!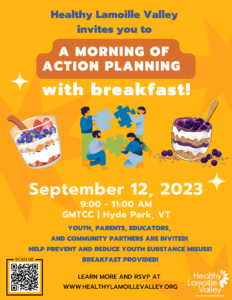 Share the poster!