Healthy Lamoille Valley and Clarina Howard Nichols Center are hosting an Askable Adult training on how to build trusting and affirming relationships between youth and adults. Food will be provided, childcare is available.
April 15th, 9:00AM – 12:00PM at Jenna's House, Johnson, VT – Register here
Please register in advance! The training will be canceled If fewer than 5 people register, you will be notified if you had previously registered.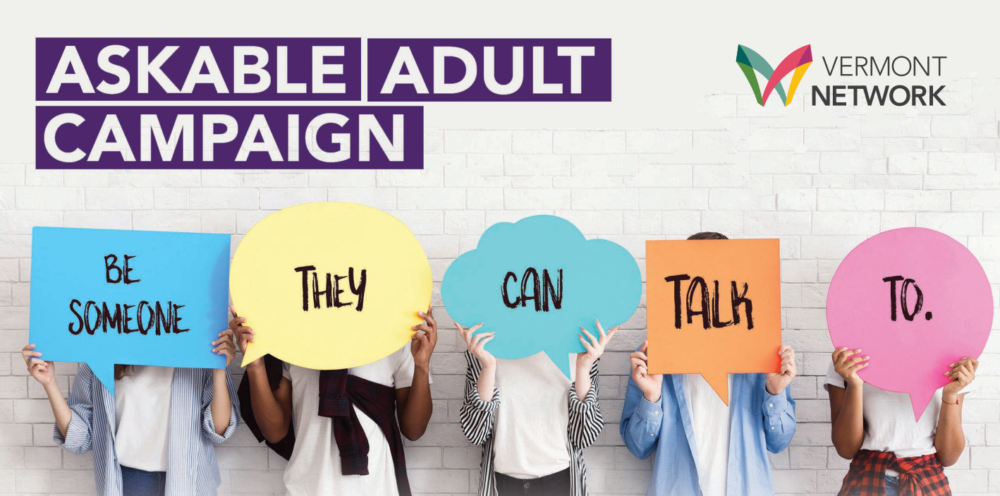 About the Askable Adult Campaign
When you were a kid struggling with family, school and other pressures, was there an adult in your life who made you feel heard and understood? If not, did you wish there was? The Askable Adult campaign aims to build trusting, affirming relationships between youth and adults by facilitating real-world scenarios and teaching concrete skills. This is a great interactive learning opportunity for parents, coaches, educators, and mentors of youth. Adults and youth ages 10 and older (youth must be accompanied by an adult) are invited to participate in this training.
Vermont's youth identify their biggest stressors as drug and alcohol use, poverty, sexism and harassment, body shaming and bullying, and homophobia and transphobia, according to surveys conducted by the Vermont Network Against Domestic and Sexual Violence which created the Askable Adult campaign. "When asked what would help, young people said that the number one solution would be having more supportive and 'askable' adults in their lives," the Network reported. "Be someone they can talk to."
For more information, please contact Brian Duda, Youth Substance Prevention Coordinator, at brian@healthylamoillevalley.org or Avalon Styles-Ashley, Outreach Coordinator and Advocate, at astyles@clarina.org.
This event is co-sponsored by Healthy Lamoille Valley, Clarina Howard Nichols Center, United Way of Lamoille County, Laraway Youth & Family Services, North Central Vermont Recovery Center, and Jenna's Promise.